Come Honor and Pay Respects to Our Fallen Officers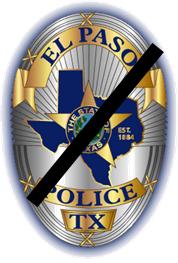 The El Paso Municipal Police Officers' Association and the El Paso Police Department will hold the Annual Fallen Officers Memorial Ceremony at 9:00 AM on Friday, May 24, 2013, at Chuck Heinrich Park, located at 11055 Andrew Barcena Dr. The park and the street on which it is located are both named in honor of fallen El Paso Police Officers.
You, your family and friends are invited. Please make plans to join us in honoring our Fallen Brothers in Blue.
Attire:
-Uniformed Officers – Class A Uniform w/"five star" hat (if already issued)
-Detectives – Business Attire
To get driving directions to the park using Yahoo Maps, go to http://maps.yahoo.com/ , enter your starting location and then the address of 11055 Andrew Barcena Dr., to take you to Chuck Heinrich Park.
Visit the Officer Down Memorial Page for more information on the El Paso Police Department Officers who made the ultimate sacrifice.