| | | |
| --- | --- | --- |
| Welcome | | You are not currently logged in. |
EPMPOA members, this is what $25,000.00 for a light display gets you! You be the Judge. Read More...
The El Paso Police Department's DWI Task Force and the Texas Department of Public Safety partnered together for a Thanksgiving DWI enforcement operation. The operation began Wednesday, November 27, 2013 and continued through Sunday, December 01, 2013 at 4:00 a.m. Read More...
Annual Holiday Lights Parade and Christmas Tree Lighting Ceremony The City of El Paso's Parks and Recreation Department will host the Holiday Lights Parade and Christmas Tree Lighting on December 2nd in downtown El Paso. The events leading up to the Christmas Tree Lighting in San Jacinto Plaza will begin at 5:00 p.m. with the lighting of the 50-foot tree at 5:50 p.m. Read More...
CARTOON of the WEEK!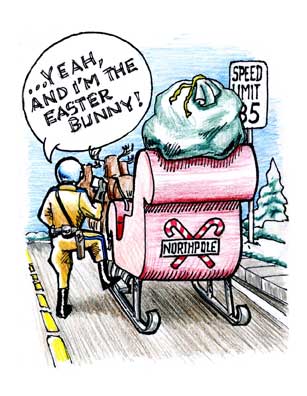 EPMPOA Christmas Party
Fellow members, The Kids Christmas Party will be Sunday December 15, 2013 at the hall from 1200-1600 Hrs. hamburgers and hotdogs with all necessary fixings and drinks. Santa will be in attendance during the entire event. Games, Activities and more will be provided.
Read More...
CRCC Director Vacany Filled!
Dear EPMPOA members, Congratulations to Officer Mark Campos for running for the CRCC Director position. During the vacancy announcements, Officer Mark Campos was the only officer showing interest in filling the position. He will assume the duties and responsibilities as one of your EPMPOA directors. He will remain in such office until next year's elections for Class II Directors.
Read More...
EPMPOA Holiday Safety Tips
The El Paso Municipal Police Officers Association wants everyone to have a safe Winter and upcoming Holiday Season. As a reminder here are some safety tips to keep in mind.
Read More...
Common Scams - Be Aware
THIS INFORMATION WAS PROVIDED TO ASSIST EL PASO RESIDENTS WITH SCAM DETECTION INFORMATION SCAM PAGE Financial Crimes Unit 911 N. Raynor El Paso, TX 79903 PHONE: (915) 564-7130 FAX: (915) 564-7179 REMINDER: Scams are becoming more and more common throughout the world. Scams take place by use of the U.S.
Read More...
1st Annual Turkey Bowl Flag Football Tournament - UPDATE
Brothers and Sisters in Blue, I am proud to announce that the EPMPOA will be hosting its 1st Annual Turkey Bowl Flag Football tournament. This tournament is ONLY for El Paso Police Officers. This tournament is for BRAGGING Rights. Does your Unit or Command have what it takes to put a team together, participate and WIN IT! If interested, call Prangner at #269-8123. A 50.
Read More...
Editorial Policy

The EPMPOA website is a service set up to provide information and assistance to the men and women of the El Paso Municipal Police Officers' Association.

Publication of articles and letters on the website voicing viewpoints do not necessarily reflect the views of the El Paso Municipal Police Officers' Association, the Editorial Staff or of the El Paso Police Department. All letters and articles received must be accompanied by the author's name and daytime phone number.

Articles may be printed as "

Name Withheld at the request of the author

." Freedom of expression is recognized within the bounds of good taste and space limitations. All material will be reviewed by the EPMPOA Legal Staff prior to publication and all articles are subject to editing by the Editorial Staff.