President's Message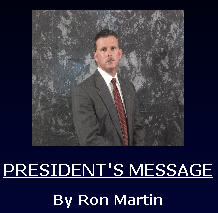 VICTORY!
Dear El Paso Municipal Police Officer's Association,
I am very proud to announce that the El Paso Municipal Police Officers Association has bounced back from our old reputation of "The Kiss of Death, if and when we endorsed any candidate in any political race". Thanks to your current board of directors and the never ending fight by 1st Vive President Officer Henry Rivera. Thanks to him and the board we now have a friendly City Council toward law enforcement. When we took the reins of the association in 2010 we only had one friendly City Council Member, Northeast Representative Carl Robinson who stood his ground to fight for our members. During the past two election cycles our association has changed its past and now sits at an almost 90% win ratio when we endorse an elected official.
It's no longer about friendships It's about being professional and electing solid civic leaders that not only help us as an organization, but better represent the citizens of El Paso as a whole. When your current board started in late 2009, politicians could care less about an EPMPOA endorsement and some didn't want it because of our "Kiss of Death" history. Now they are knocking down our doors for support and help obtaining elected offices. It's not just about money, the association has now been forced to fight budget cuts, downsizing of this department, pension issues, insurance & benefits issues and keeping El Paso the Safest City. This is all about who is elected into office. Make sure they stay true to their promises and advance the City of El Paso into the future but not on the backs of the workers.
We as an association did not stand in the way of advancement by opposing or supporting The Ball Park endeavor, we had no opinion on the destruction of City Hall or the Asarco stacks. We do however stand in the way and will continue to stand up for issues that will harm and cause negative effects on the men and women who serve and dedicate their lives to protecting our community and its citizens.
We did and will continue to stand in the way when the PD budget is decreased and will demand answers from those responsible.
We stood in the way as our numbers decreased to an almost 13 year low! And have fought and continue to fight vigorously for more police academies.
We stood in the way when certain City Council Members and Managers tried to take our pensions!
We stood in the way when they tried to take our pay, recovering 3 Million! In back pay for officers.
We stood in the way when the City Manger changed Civil Service and City Policies Taking away rights! We fought and protected our brothers and sisters in blue.
We stood in the way when select groups try to take advantage of what we do and tried to take our benefits! And once again fought and protected our brothers and sisters in blue.
We will stand in the way of anything or anyone who tries to hurt us, our families the citizens and community we so proudly protect!!!!!!!!!!!!!!!!
That's a promise!!!!!!!!!!!!!!!!!!!!!!!!!!!!!!!!!!!!!!
Your President,
Sgt Ron Martin
Page Last Updated: Jul 01, 2013 (10:18:54)