President's Message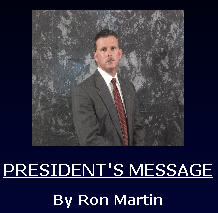 "2014, a New Year"
As the New Year rolls on by I would like to take a moment to update our members on a few accomplishments that your association has done in 2013, with your help.
As of this last pay period all officers have received their increased pay and all supervisors have repaid their portions and who are now seeing their new pay raises taking affect. This was a long process and I would like to thank all of you for being patient and having trust in your association for a 3 Million Dollar outcome. I had several naysayers who said we didn't do things right and we would lose, but most of you didn't listen to the negativity and we stuck together and were victorious.
Another large victory on our side was the grievance that was filed in regards to how many hours we had in our Shared Leave Pool. Thanks to the association board and good documentation on our part we won the grievance and our pool went from 6,857 hours to almost 8,804. Since our stance on that eventful day back in 2011 shortly after taking over office, we enforced our Shared Leave Contract Rights and now the Shared Leave Pool is sitting at almost 19,000 hours which equates to almost $540,000.00 in cash that can be usd by our officers in need.
Another victory for us was not actually a victory but a tactical error on some of our past Executive Board Members, that we had to overcome. In January 2011 the association was informed by City Hall that we only had 324 hours of Association Leave or commonly referred to as LAV remaining on the books. The City requested a new MOU wanting more hours from the officers (8 Hours each Year) with additional options to the Chief. Without a new MOU, the President would have to return to full duty, which I had planned for by working CRCC Graves with Mon/Tues/Wed as Days Off so I could be at the office all week Monday-Friday. After numerous discussions and our disagreement with the City we were forced to file a Class Action Grievance. Due to legal issues both sides signed a stand-still agreement that placed this on hold until the end of the contract to see if the association could reverse the negative balance. The disagreement with the City was that they had allowing the association to operate in the negative in the past, the year 2003 for example. The problem arose back in August of 2009 when the MOU was signed removing the 3 Hour LAV Deductions from our members in January of 2010 which should never had been proposed. The President's assumption that the association had well over 10,000 hours in the pool was not accurate. The City of El Paso produced records going back to 2004 documenting their side of the argument and the association has nothing from Past Presidents stating otherwise. Since the issue was raised to your newly appointed Executive Board, we have reduced the utilization of LAV by 57% in 2011, additional 12% in 2012 and now an additional 20% in 2013. During this time the members have never been affected and LAV utilization for IAD issues and critical incidents is always the first property. Several members on the Board of Directors, including myself, utilized large amounts of their personal time for association functions and representing our members. At the end of the contract in 2014 the association will be in a positive and building the pool so that we never face this problem again.
As we start 2014 you have noticed a lot of changes at City Hall to include the exiting of our City Manager, building of the new Baseball Complex and the most concerning the 9.1 Million in spending by City Hall that has placed all City Employees at risk. The City of El Paso is over budget and now is coming back to us asking us to cut our budgets and do more with less once again. The association is now in Contract Negotiations with the City trying to create a new Collective Bargaining Agreement and your Contract Team stands ready to fight for what we have and protect this department from City Hall. Some of our concerns of course are the Pension issue, the Insurance issue, staffing and equipment problems and several others facts that if not corrected will send this department backwards and not forwards. The safety of our officers and the safety of our citizens are what drives what we do and what we need. I believe that certain past City Officials have failed to look into the future when making decisions that now we are faced to correct. The Association stands ready to fight for each of you, your families and the community in which we live and work. Thank you for your continual support and trust in your association.
Thin Blue Line
Ron Martin
EPMPOA President
Page Last Updated: Mar 17, 2014 (09:56:03)