EPMPOA Mourns Death of Officer Jonathan Molina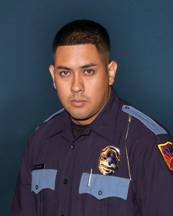 + Officer Jonathan Molina #2759
The El Paso Municipal Police Officers' Association sadly reports that Officer Jonathan Molina #2759 passed away this morning (Friday, October 05, 2012) at University Medical Center. Officer Molina, age 29, an El Paso Police Department Officer for 4-years assigned to the Central Regional Command Center, died as a result of the injuries he sustained after being attacked on Tuesday, September 25, 2012.
On that day Officer Molina observed that his vehicle had been vandalized and proceeded to confront three possible subjects. Officer Molina identified himself as a police officer and attempted to detain them for further investigation, when one of the subjects, identified as Juan A. Gonzalez, attacked him and slammed his head onto the concrete. Officer Molina was knocked unconscious and was unable to defend himself. The subject then proceeded to strike Officer Molina about the face and head repeatedly until witnesses came to Officer Molina's aid. Officer Molina was transported to the hospital for treatment of the life-threatening injuries he sustained and remained there until his passing.
The EPMPOA is very thankful for the outpouring of support shown by members and their families, PD personnel and the public safety community in general, during Officer Molina's stay at the hospital. To say that Officer Molina's family was overwhelmed with this show of support for our "brother in blue" is an understatement.
Officer Jonathan Molina, a former Marine, attended the El Paso Police Academy from January to July 2008 and was a member of the 111th Police Academy Class. The EPMPOA asks that you please keep Officer Molina's family, friends and Co-workers in your prayers. Information regarding funeral services will be announced as soon as they become known.
Police Chief Greg Allen said it best when he stated, "The citizens of El Paso and the El Paso Police Department have lost a man that chose a life dedicated to serving the people of El Paso."
Officer Molina's line-of-duty death is number 28 for the El Paso Police Department. We will never forget him and those who made the ultimate sacrifice.
Note: On the day of this incident, Juan Gonzalez was arrested and charged with Aggravated Assault against a Public Servant. Crimes Against Persons Detectives have since upgraded the charge to Capital Murder and re-booked Gonzalez on a $5 Million dollar bond. He remains in custody at the El Paso County Jail.
Click here to visit the Officer Down Memorial Page for Officer Jonathan Molina.